I recently wrote a blog post over at mrkniceguy.com revealing my thoughts on the new Netflix pricing announcement and it got me thinking about writing a post about the different ways I stream media around the house and out-and-about. Funny, because after I started writing I spotted this post over at How-To-Geek with something similar. So, here's my setup:
I love streaming content. No discs, tapes or other physical objects to get in the way. While most people have maybe a few dozen albums in there car (unless you've got a big 'ol CD changer in there, and even that maxes out a…. a dozen) I have thousands. How you might ask? Subsonic.
Subsonic is a music server that runs on your home computer. It's really easy to install and once installed you simply log in from any browser or the handy smartphone apps. My setup is on a Windows 7 machine streaming to the HTC Evo 4G. There are a ton of great settings built in to the server that will help you save bandwidth if you're on a capped internet connection and you can even stream video to flash enabled devices (sorry iPhone, Steve told you you didn't need it…). I can't tell you how much this has come in handy. Not only can you access your ENTIRE music collection from your phone, but you can log in from a friends computer and stream there. I use it at home and on the go. Check it out music lovers! Subsonic is donation-ware and well worth every penny.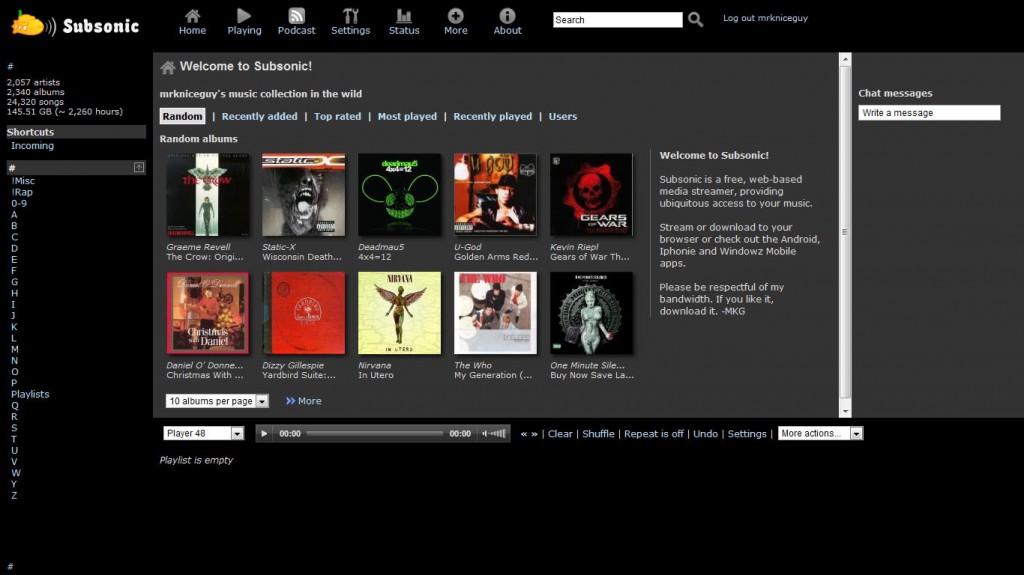 For movies I generally don't watch on the go. Probably because when I go someplace it's either to watch a movie (like in a movie theater) or I'm there to do something OTHER than watch a movie. So locally it's a toss-up between Netflix and PlayOn.
Netflix, as you probably know, has a massive library of streaming content. I watch it either on my laptop, my Android tablet (the Archos 70it), my Evo or one of my two Xbox 360s. The only catch with the 360 is that it requires a Xbox LIVE Gold account (not a problem since we're a household of gamers!). The HD movies look awesome though and I can generally find a movie I want to see. Oh, and their classic TV shows collection is epic.
PlayOn on the other hand is a gem. Not only do they offer a bunch of streams from popular websites like Comedy Central, CBS and Adult Swim, but with local streaming I can watch all my .mp4 and .avi encoded movies over my home network. That's right, store 'em on the computer, watch them on the big screen. PlayOn cost $39.99 a year for the full package or $79.99 one time. I got in on the ground floor a few years ago for somewhere around $30 and paid $5 for the upgrade. Not 100% sure I'll upgrade next year for the bonus channels, but the local streaming is well worth it. You do need  a decent PC to run PlayOn (your 486 ain't gonna cut it here) but there is a 14 day free trial to test it first. And after fourteen days you can suck it up and by a new computer you cheap-skate!
That pretty much covers my streaming setup. I do have an XBMC enable Xbox but rarely use that for the other options. Questions or to share your setup, drop me a comment below.