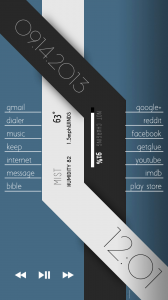 I've finally upgraded my device and settled on the flagship HTC One (for me on Sprint). And with any new devices begins the search for the perfect ROM. ROM selection is always a personal choice, so your mileage may vary on each of these, but I wanted to share what I've been playing with lately.
The HTC One comes stock with Android 4.1.2 with HTC Sense 5 on Sprint. While 4.1 is a great version of JellyBean, I have really gotten used to some of the 4.2.2 features on my older Galaxy Nexus (now moved on to my brother). So the search began for an AOSP ROM that would scratch that itch.
I've always been a huge fan of CyanogenMod. The pure AOSP feel with just the right tweaks added on just feels right in my hand. Simple things like, quiet hours, custom tiles in the power widget and solid root access make it an easy choice. But there are just a couple of features on the HTC One that haven't made it to the regular nightlies for CM 10.2. The biggest one is IR support.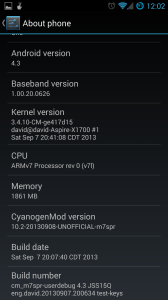 The HTC One has a built in IR Blaster which, when set up properly, can be a lot of fun and really handy around the house. There are some fixes in the works, but an official CyanogenMod ROM with IR support hasn't come out yet. Enter XDA Developers user David279. Also a fan of CM, he has built unofficial CM 10.2 ROMS with the IR blaster (as well as some other tweaks) and shared them with the community.
I've been using them for a few weeks now. While every once in a while something might go south, they builds have been top-notch. I'm currently on the 9/7 build and using it as a daily driver with no issue.
If you've got an HTC One on Sprint, check out the thread. Hit me up in the comments or on Google+ if you check it out.
At XDA: Homemade CM 10.2 with cherry picks ~ Working IR/USB OTG support