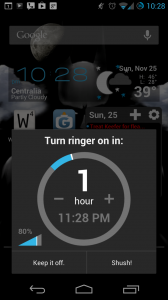 Have you ever been a meeting and had your ringer go off, interrupting everything? Embarrassing to say the least. But what about when you actually remember to turn your ringer off, only to realize 4 hours later it's still off and you've missed all kinds of important incoming notifications?
Shush! let's you silence your device for just the right amount of time. Weekly, I turn my ringer off for a Monday noon Toastmasters Internationale club meeting. With Shush! I just silence my phone, and tell Shush! to turn my ringer back on in an hour. And like clockwork, Shush! turns my ringer back on and I can go on with my day, worry free.
I can't tell you how many times this great app has saved me from missing important calls or emails. And it's well worth every penny.
Free and no ads. You really can't beat that!
Check out Shush! in the Google Play Market. You'll be shushing like a boss in no time.

In a future post I'll tell you how to shut your ringer off for a meeting automatically. Check back soon!